GaiAlmas Ronja
Alma vom Irschener Winkel x Yukon Perasperaadastra
born: 07.10.2020

HD-A, ED-0, Heart Ultra/EKG (4/2022): OK, complete scissor bite, Ichthyosis gene: free
Ronja is named after "Ronja Rövardotter" since she is out of my Astrid Lindgren litter. But actually it was clear that I wanted to name my keeper "Ronja" after her grandmother "Ronja Perasperaadastra", a female who I liked a lot and who I raised two litters with when I worked as a kennel girl in Switzerland.
I absolutely wanted to keep a girl from Alma's first litter and fell in love with little Ronja, although it was hard to choose between her and her fawn sister Pippilotta. This litter is very special for me, because I know its father Yukon Perasperaadastra and his breeding line very well, since I worked in this kennel in Switzerland. I even raised Yukon as a puppy, and loved his parents Ronja and Beni. Yukon was 5,5 years old at the time of mating and had all health tests with best results. He is still alive now at the age of 7,75 years and perfectly healthy. Many dogs in his pedigree reached a high age. Yukon is an elegant male with an excellent, sovereign character, like most dogs from this kennel have it. This litter is a very wide outcross, because Yukon's father is from the fawn/brindle color group. This means the genetic diversity is very big which increases the chance for health and longevity. Furthermore the pedigree includes old Swiss breeding lines who were not used a lot and I always try to preserve rare blood.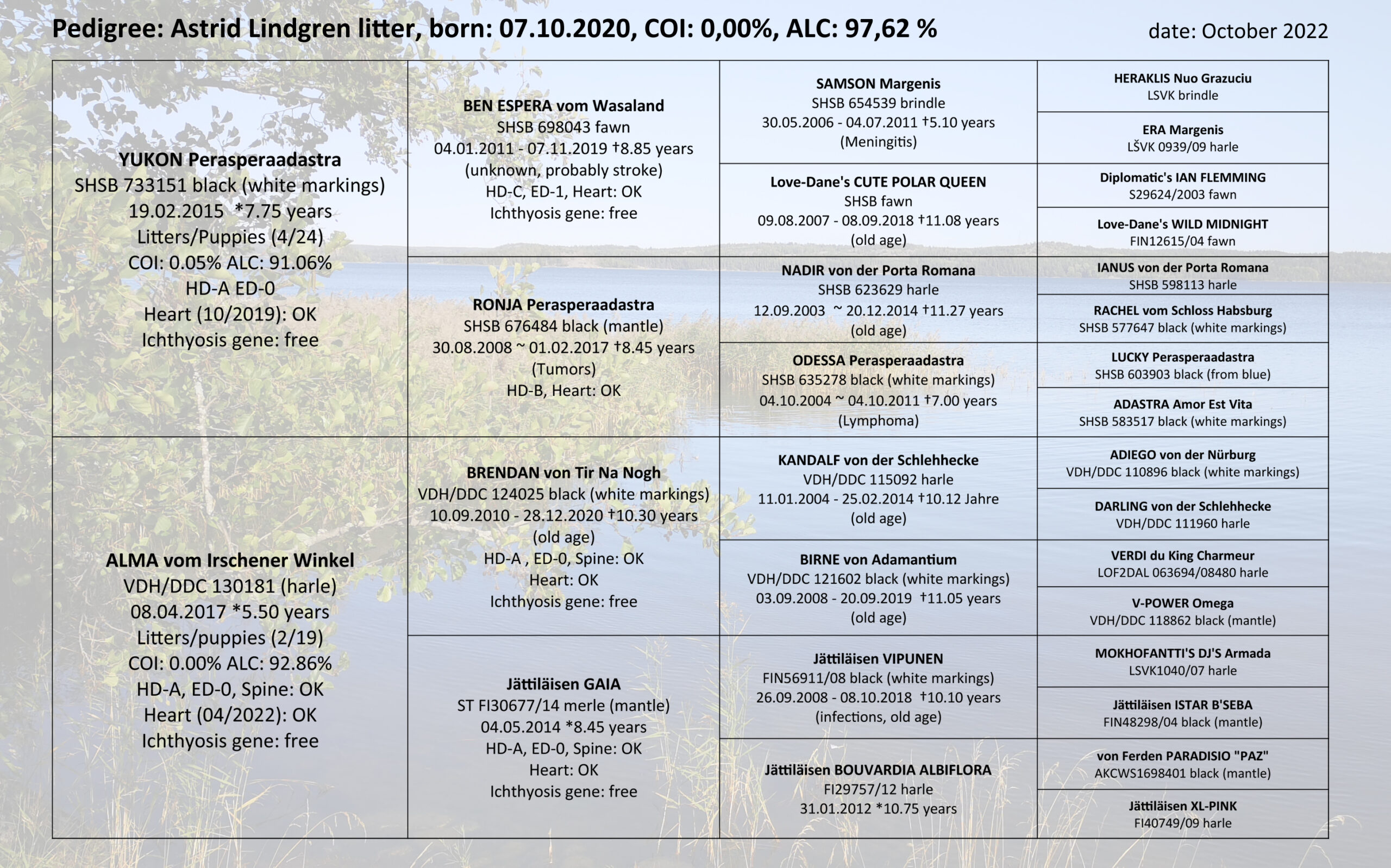 Ronja developed into a very tall female, with a lot of elegance, but also a portion of substance. She has long legs and a long arched neck and very tight skin, that's why she also has beautiful eyes. She is a rather dark harlequin, especially on her left side, but her color is clean. Ronja's character is excellent, she actually has a will to please and is easy to train, which is quite rare in this stubborn breed 😉 She is an athlete outside, absolutely fit for function, with fantastic movement. But inside she is very calm and also when I take her with me to a restaurant etc. she will lay down by herself and is absolutely relaxed. She is friendly to all humans and dogs, well, sometimes she tortures her little sister Leni a bit, but this little monster absolutely deserves this 😉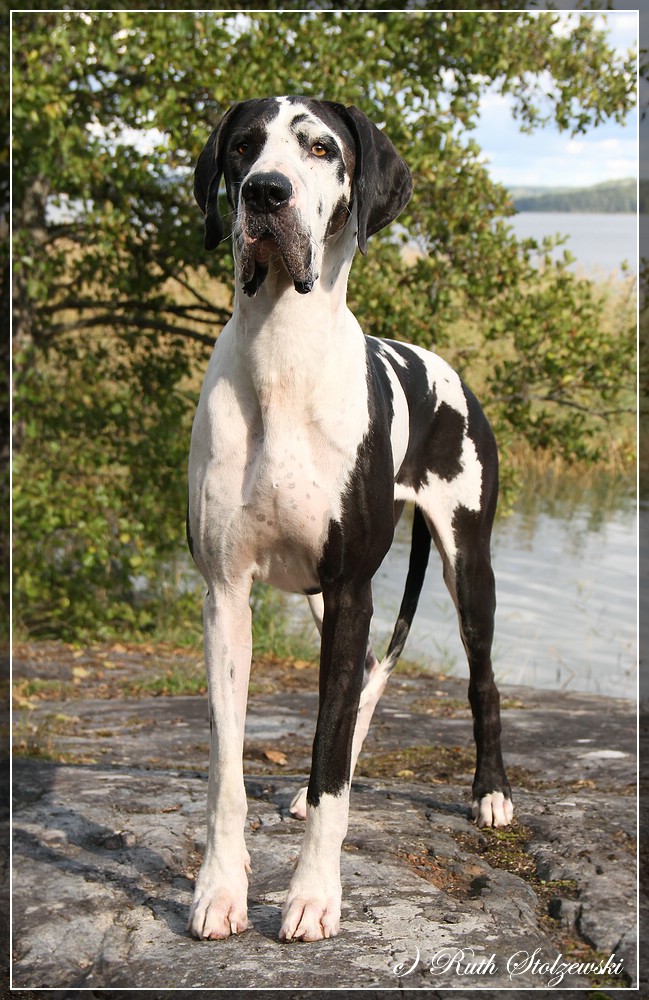 Ronja is the mother of my Finnish Winter Litter, which was born at the 13th of February 2023. As expected she turned out to be an excellent mum, just like her mother Alma and her granny Gaia.