Alma vom Irschener Winkel x Great Bel's Nairobi
born: 04.09.2021

HD B, ED 0, Heart (Ultra/EKG): OK (6/2023), complete scissor bite, Ichthyosis gene: free,
does neither carry fawn nor blue

Leni-Lagertha is named after the Viking queen "Lagertha" and after a very cute Sheltie female who lived in the Perasperaadastra kennel in Switzerland when I was working there as a kennel girl.
Actually I felt that it is a bit too early to keep another puppy, but since Leni's big sister Ronja is such an easy dog and Alma gave birth to this beautiful little harlequin (the only one in the litter) and it was supposed to be her last litter I decided I would go for it. I was interested in the father of my Vikings litter, Great Bel's Nairobi, already for a while and visited him in 2019. "Robbie" was already 8,5 years when he mated Alma, and produced incredible 15 puppies! Unfortunately he died very suddenly only one day after he has visited his puppies because of a bursted spleen tumor. He seemed absolutely healthy one day before and had lots of fun with his puppies and my whole gang. But he has reached a good age for a great dane male! "Robbie" was a friendly and sovereign male, fully health-tested with fresh heart ultrasound. His parents are both American and neither is he a popular sire nor were his ancestors used a lot in breeding. So I could again preserve rare blood with this litter and do a wide outcross.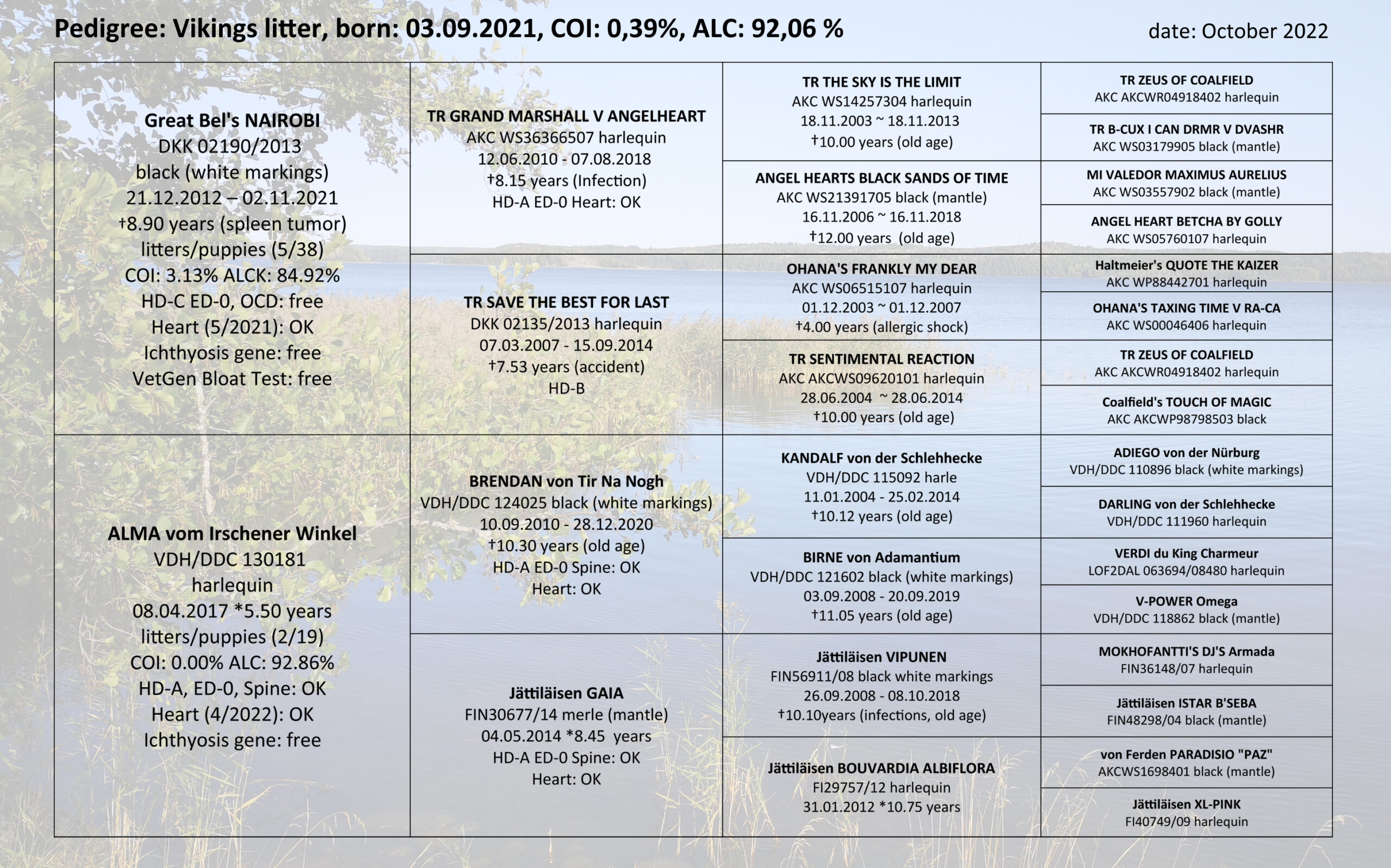 Little Leni turned out to be quite a demanding puppy/youngster and cost me some nerves when she was younger. Well, I would say she was the most difficult puppy I ever had. Extremely stubborn, cheeky and independent. Sometimes I thought that maybe she considered herself a cat, since she grew up with my 4 kitties 😉 I guess my cats think a bit that they are dogs and vice versa. Maybe it was also not wise to name her after a Viking warrior 😉 Anyway, I accepted the challenge and trained a lot with this little monster and it actually helped. She learned that life is much easier when cooperating and even turned into a little swot. Also her big sister, mum and granny are a huge help in teaching this rebellious girl.
Leni is a medium-sized, compact and agile great dane with a very nice harlequin color and lovely movement. I showed her 6 times in 3 countries and she always got excellent/honor price, except for one very good. She became best Puppy in Västerås 2022 and best harlequin junior female in the Color Show in Finland 2022. She will be health tested in 2023 and hopefully the results will be as good as of her ancestors and half-siblings.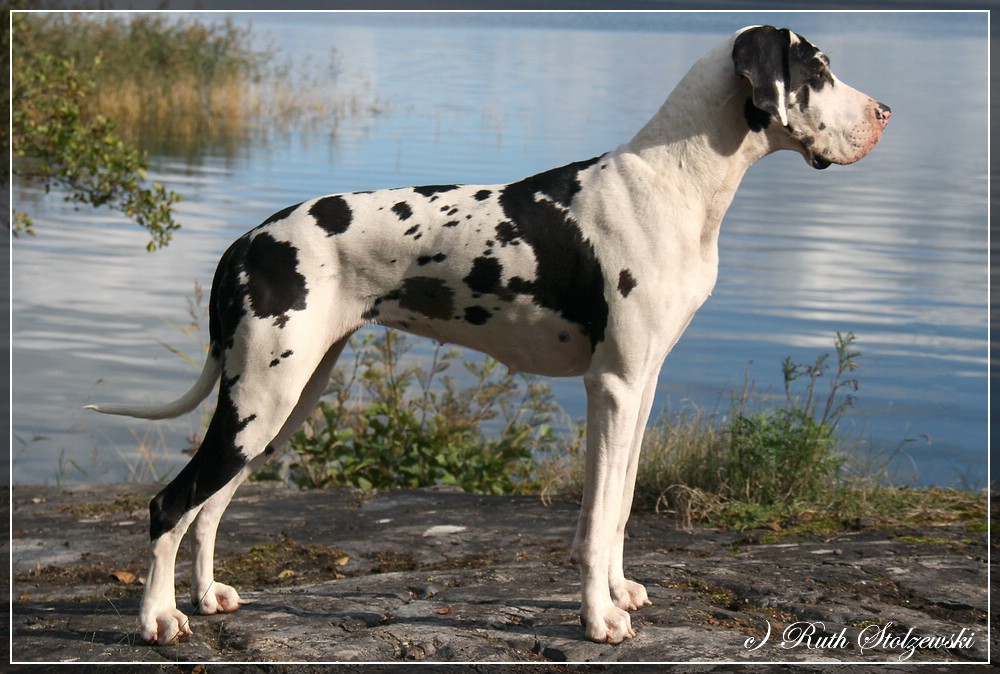 Leni at the age of 18 months in the snow. She has been x-rayed now and will be heart screened in the course of 2023.
Leni at the age of 22 months. She develops nicely and her heart screening went well.