Alma vom Irschener Winkel x Yukon Perasperaadastra
born: 07.10.2020

HD-A, ED-0, Heart Ultra/EKG (4/2023), complete scissor bite, Ichthyosis gene: free

When Cookie was born as the 2nd puppy after her black brother I had to laugh. A fawn girl in a black/harl litter. What a surprise! It was clear that her father carries fawn, but her mother's fawn was hidden over more than 8 generations! Many breeders out there would have felt ashamed and maybe even killed this "wrong" color, but I was just happy about this golden wonder. What a wonderful enrichment she might be to the fawn/brindle gene pool, which is anyway very limited. So it was clear that I would keep Cookie, but since I couldn't keep two puppies at the same time at my home I searched for a co-owner. And I was very lucky to find the best co-owners a breeder can imagine to have. You can find a detailed description on Cookie's pedigree on her sister's Ronja's page and on the page of the Astrid Lindgren litter.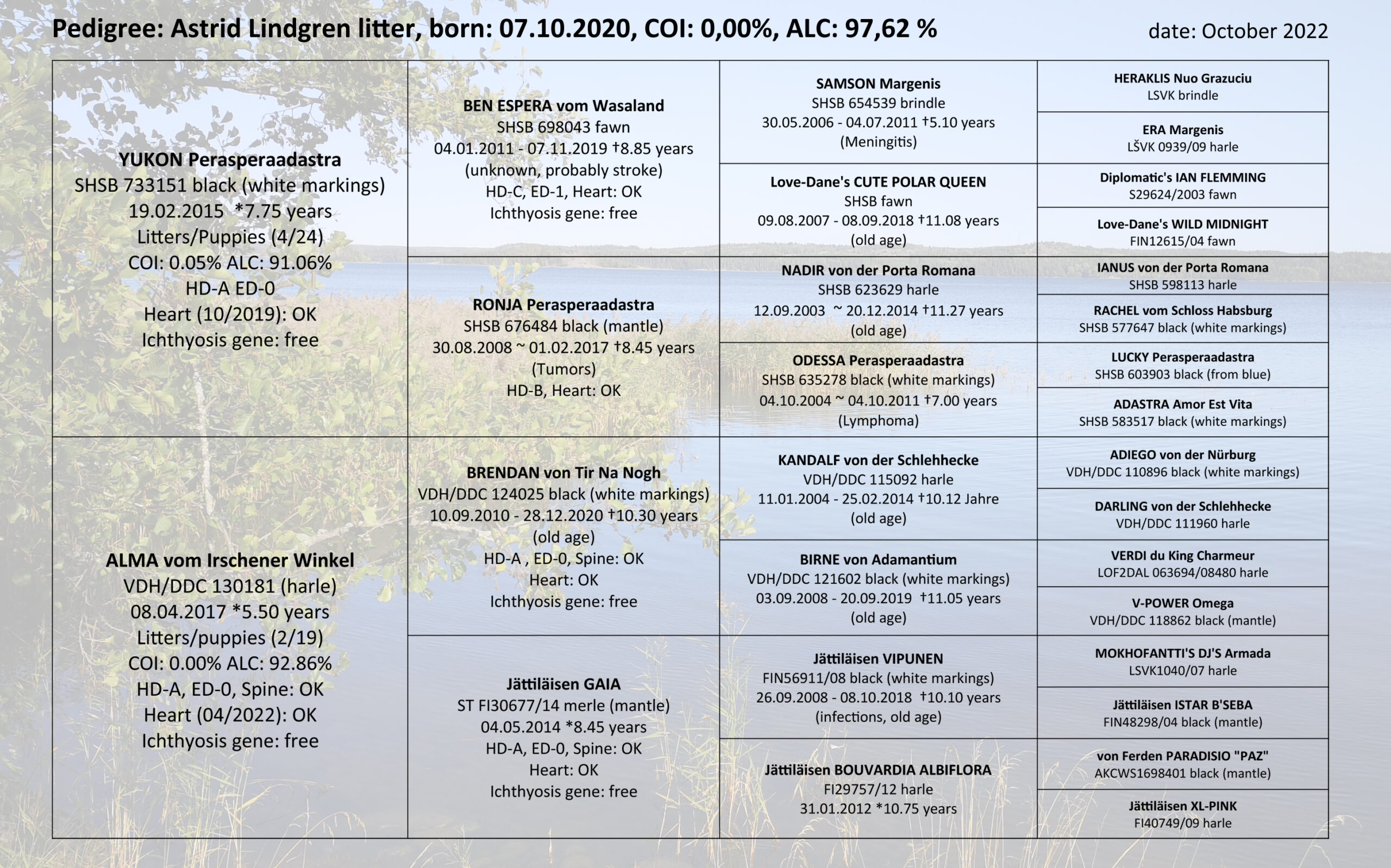 Cookie is born in my Astrid Lindgren litter and was named after Pippi Långstrump. They have the same hair color, but actually not quite the same character 😉 Cookie is not cheeky at all, but like her sister Ronja a very uncomplicated dog with a big will to please. She is always happy and friendly and sometimes a bit "dramatic" like her mum Alma. But just the fact that a fawn appears in a black/harle litter is quite a "cheeky" thing 😉
Cookie has developed into a medium-sized, elegant girl, with a lovely feminine head and expression and an intense color with a dark mask and only little white on her paws and chest. She passed her health tests as perfectly as her sister Ronja and so she is supposed to be mated next year. Cookie lives not far away from us in the south of Stockholm and we meet regularly for a walk together and she sometimes stays with us when her family is on holidays. So she is fully integrated in my pack and it will be no problem for her to come back home for her litter.